First ladies have a unique platform to improve lives. What can we learn from first ladies as leaders, and how can they maximize their impact?
A Role Without a Rulebook
The Influence and Leadership
of Global First Ladies
First ladies have a unique platform to improve lives. What can we learn from first ladies as leaders, and how can they maximize their impact?
Download the full study
(Spanish / French)
"I hope someday someone will take the time to evaluate the true role of the wife of a President and to assess the many burdens she has to bear and contributions she makes."
—President Harry S. Truman
About the Report
The George W. Bush Institute's First Ladies Initiative and the International Center for Research on Women examined the expanding role of first ladies, their leadership on critical issues, the challenges they face in leveraging this unique platform, and how first ladies overcome those challenges to make a difference on critical issues at local, national, and global levels.
The research profiles 14 first ladies and includes interviews with 11 current and former first ladies from around the world, providing unique case studies for women's leadership more broadly. The report was completed with generous support from Exxon Mobil.
Download the full study
Spanish / French
Authors
Natalie Gonnella-Platts is Deputy Director of the Women's Initiative at the George W. Bush Institute.
Katherine Fritz is Senior Research Advisor at ICRW.
Like many heads of state, Harry S. Truman developed a first-hand appreciation of the substantive contributions his wife, First Lady Bess Truman, made to his administration and the nation. President Truman's wish for the role of first lady to be evaluated and recognized for its contributions has only recently begun to come true.
First ladies provide unique case studies for leadership. Naturally, the role varies by country and context—it may be endowed with financial resources or lack any budget at all, it may be staffed or un-staffed, and it may be legally or formally recognized or not. Even in countries where the role is most formally recognized culturally and politically, it is typically a role without a rule book.
As Mrs. Laura Bush noted, when interviewed about her role during her time at the White House, "The role of First Lady is whatever the First Lady wants it to be."
The role is defined by flexibility and opportunity on one hand and constraints on the other. It is continuously defined and redefined by the unique personalities, capabilities, and active engagement of the women who serve in the office. Despite challenges, time and again, examples emerged of first ladies making an impact. Their experiences will contribute to wider lessons that can inform and inspire current and future first ladies as well as women leaders everywhere.
HISTORICAL PERSPECTIVE
"I think that the role of the First Ladies … has changed lately because of the changes in the role of women [more broadly]."
—Ms. Ana Botella
The gradual expansion of the role of the first lady is not surprising. Changes in the role over the past two centuries roughly track the historical trend toward more gender-equitable marriages, women's entry into the workforce, and their expanding voice and political participation in societies globally. First ladies have not only kept pace with past transformations, but in some cases have helped set the pace by forging unprecedented models of women's leadership and advocacy.
A four-part typeology — hostess, teammate, champion, and policy advocate — describes the expanding role of first ladies over time. The roles have been simplified and the classifications are not mutually exclusive. They roughly map onto chronology—with early first ladies fitting into the hostess category primarily and contemporary first ladies increasingly taking on the champion and advocate role. It is not an evolutionary trajectory, but a description of the distinct yet overlapping modalities through which first ladies exert their influence. Most first ladies today still balance these multiple and, at times, conflicting responsibilities.
Hostess
Historically, the role of a first lady has been associated with that of a hostess, coordinating social gatherings, greeting guests, and attending events with their husbands.
Martha Washington, Ceremonial Hostess
Daniel Huntington, Lady Washington's Reception (Republican Court), 1861. First Lady Martha Washington greets guests. (Brooklyn Museum of Art)
With time, the role of first lady has expanded and adapted, but the ceremonial hostess responsibilities have persisted. This type of influence continues to form a critical responsibility of first ladies and presidents in the United States and other countries.
In the United States, this precedent was set by Mrs. Martha Washington. As the first to assume the unique position of America's First Lady, Mrs. Washington's every action determined the expectations faced by her successors. She hosted weekly receptions for local constituents, members of Congress, and foreign dignitaries. Every Friday evening, guests met Mrs. Washington at the presidential mansion for food and conversation.
While some criticized these receptions as reminiscent of the practices of the British monarchy, Mrs. Washington characterized her gatherings as critical to participatory democracy because they gathered diverse groups of people for discussion. Even though her actions fulfilled a traditional female responsibility—to host social gatherings—her entertaining also contributed to the diplomacy that was essential for the American presidency.
Teammate
Another crucial part of a first lady's role, historically and in current times, is that of a political partner or teammate. Throughout the 20th century, marital relationships have gradually become more gender equitable, offering many first ladies newfound opportunities to wield political influence and power as teammates with their husbands. The ways this dynamic has played out are as unique as the individual relationships between wives and husbands, and of course are shaped by historical context.
In the United Kingdom, where no formal role for a first lady exists even today, Mrs. Clementine Churchill's active involvement in political affairs was a continuation of her involvement in Sir Winston Churchill's career throughout their marriage. She considered herself a counterpart and advisor to her husband – not dissimilar to a chief of staff. Their relationship was a partnership whereby Mrs. Churchill would step in when her husband needed help engaging the public or when political affairs went wrong.
It is worth noting that Mrs. Churchill's active involvement in political affairs was shaped by her experience of two world wars. During World War II, she stood on rooftops to direct the fire brigade during the Blitz and directly advised her husband on which world leaders to ally with. As a wartime first lady, she recognized the contributions that the British people – especially women – would make on the home front. She encouraged women to enter the workplace and take part in the war effort, improved the quality of air raid shelters, and offered compensation to those who lost their homes.
Throughout this period, the British people came to rely on her and her relationship to her husband as a spouse, a teammate, and an advisor.
"[I]t was what [Clementine Churchill] made of [her role] that made her such an important and distinguished figure and she was able to do that because she'd been involved in Winston Churchill's career right from the point that she married him in 1908 … she started advising him on his speeches, on his appointments, the things that might go wrong … it very much became a partnership."
—Sonia Purnell, biographer
Champion
Challenging the Prevailing Culture
Mrs. Eleanor Roosevelt speaks to a young child in 1935. (Bettman/Getty Images)
"She refused Secret Service protection, and as she begins to speak out on issues of controversy, especially those revolving around race, the death threats on her escalate. She was very aware of both the support she had in the country and the nerve that she struck…Every day she saw in the most intimate, painful personal way possible, the shortcomings of democracy, but she never lost faith in trying to make it better…an act of unimaginable devotion and commitment."
—Alida Black, historian
One of the most prominent roles of a first lady today is that of champion. Mrs. Eleanor Roosevelt was probably the most prominent model for this role. As America's longest serving first lady, she was an indefatigable champion for a range of social justice causes.
During and after her time as first lady, she was a champion for issues that challenged the prevailing culture, such as racial equality, labor rights, and women's rights, and she succeeded in this role in large part due to her intrepidness.
Mrs. Roosevelt's focus on championing the rights and wellbeing of socially marginalized populations, including women and children, was a common theme for other historical figures and for many contemporary first ladies as well.
Demonstrating the influence of first ladies on the global stage, principals are often tapped as advocates by international organizations. During her time as First Lady of the Dominican Republic, Vice President Margarita Cedeño de Fernandez was appointed as a Goodwill Ambassador on behalf of the United Nations Food and Agriculture Organization (FAO). Dr. Christine Kaseba-Sata, former First Lady of Zambia, served as the World Health Organization's Goodwill Ambassador on Gender-Based Violence, helping to steward attention on the issue and the adoption of a landmark resolution strengthening the role of the health care system in prevention and support for survivors. In 2016, Namibian First Lady Monica Geingos, a champion for youth empowerment, was appointed as the UNAIDS Special Advocate for Young Women and Adolescent Girls.
Policy Advocate
In some cases, first ladies have expanded their role as issue champions to take on a more explicit role as policy advocates. In the advocate role, a number of first ladies have proven instrumental in advancing policy and encouraging government and private sector action.
As first lady, Mrs. Laura Bush had a strong influence on the global human rights agenda, including her advocacy for women and girls in Afghanistan and human rights and democracy in Burma . As Jerry Zremski documented in a 2016 series for the Buffalo News on Burma, "The first lady's office organized that [United Nations] panel on Burma. The next year, she met with refugees from Burma at the White House, and when the Burmese army cracked down on Buddhist monks in August 2007, she called Ban Ki-Moon, the U.N. secretary general, and asked him to act."
In 2008, during a visit to Thailand, she toured refugee camps and border lands. Encouraging bipartisan action, Mrs. Bush responded to invitations to Capitol Hill by the Senate Women's Bipartisan Caucus on Burma, and stood with them, arm-in-arm, advocating on behalf of human rights in Burma and the release of Aung San Suu Kyi.
"While I was in the White House, some of what I did to aid the Burmese had to be done in secret…But by the fall of 2006, I could no longer remain publicly silent."
—Mrs. Laura Bush
The Role of the First Lady Today
"There will always be challenges around the role and function [of first ladies] … The First Lady really needs to first decide, within herself, what it is that she really wants to do."
— Mrs. Monica Geingos
First ladies today are writing the next chapter of an evolving story. First ladies across the globe navigate a complex leadership role full of possibilities, yet defined by constraints and contradictions.
Constraints and Challenges
A role without a rulebook
The first and most obvious challenge of being a first lady involves stepping into a role that is often poorly defined, if defined at all. In the vast majority of examples, expectations for how a first lady will occupy her time while "in office" are defined by custom rather than law. While this flexibility presents an opportunity for women to mold the role to fit their personalities and interests, it also poses a unique set of challenges—namely that in order to be successful, first ladies must actively craft and defend their leadership platform.
One way to learn about how this challenge played out for first ladies worldwide is to identify where their role sits on a spectrum that ranges from highly institutionalized on one extreme to completely informal on the other.
In the middle of the spectrum are countries where the role has only recently been established, and a new first lady must establish a precedent.
Mrs. Roman Tesfaye was the first Ethiopian First Lady to have a position formally supported within the Prime Minister's Office. She found that she had to justify her position to those within government. Even though the Office of the First Lady of Ethiopia is now recognized as an official unit within the Office of the Prime Minister, it is not provided an annual budget. Since the Office is not government funded, Mrs. Roman, whose work is voluntary and non-paid, must marshal the resources required to pay staff and implement core activities from local and international donors and partners.
"What happens with the First Ladies in Honduras is that there is not an institutional body that backs up their work…[Our efforts are] more voluntary …defined by each woman with their own agenda."
—Mrs. Ana Garcia de Hernández
"The role of [first lady] did not exist. There were no real precedents so I tried to adapt myself to the circumstances and my own personality. When there is nothing established, your primary role is to contribute to make things work well during the years of the presidency."
—Ms. Ana Botella
"I think up until now… there are people who think that my role is not really very important."
—Mrs. Rula Ghani
The burden of gender stereotypes
The role of ceremonial hostess has always been prominent for first ladies, but the expectation that first ladies will concern themselves with coordinating the functions of house and home helps to perpetuate gender stereotypes that can become frustrating for first ladies to navigate.
"An empowered woman who is always ready to fight back makes people uncomfortable."
—Ms. Vanda Pignato
Traditional expectations – because they are tied to inequitable gender norms and stereotypes – at times demean the expertise and capacity of first ladies. Some first ladies experience frustration in juggling ceremonial roles with a desire to spend time pushing forward advocacy initiatives. The public is accustomed to seeing the first lady at her husband's side; if she were missing or replaced by another person, her absence would likely raise questions.
For Ms. Vanda Pignato, former First Lady of El Salvador, gender stereotypes were evident in the resistance she encountered in developing Ciudad Mujer – a Salvadoran government initiative to establish one-stop centers that provide specialized services for women including job training, maternal and reproductive health support, self-sufficiency education and skills training. Ms. Pignato cited distrust from government officials and gender advocates over "the fact that the First Lady left her traditional role of charity" to take on social inclusion and to combat violence and discrimination of women.
Mrs. Laura Bush sees the disregard accorded to first ladies as symptomatic of the wider disrespect often reserved for all women in positions of influence: "The role of the First Lady is often seen as just a social role where you decorate the Governor's mansion, the White House, or wherever you live. But I think that this view is not just for the First Lady. This is in general for women who are not taken as seriously as men are, especially women candidates. And that's changing."
Another challenging facet of gender stereotyping for first ladies pertains to the public's endless fascination with the first lady's appearance. However, the men who occupy the role of first spouse are rarely subject to having their appearance scrutinized. Whether looking at examples like Dennis Thatcher (Margaret Thatcher), Joachim Sauer (Angela Merkel), Nicholas Robinson (Mary Robinson), or the newly installed Philip May (Theresa May) male spouses have escaped the relentless critiques their female contemporaries had to endure.
"The role of the First Lady is often seen as just a social role where you decorate the Governor's mansion, the White House, or wherever you live. But I think that this view is not just for the First Lady. This is in general for women who are not taken as seriously as men are, especially women candidates. And that's changing."
—Mrs. Laura Bush
The legitimacy gap
The limits of a first lady's influence as a leader are inevitably constrained by the undeniable reality that she has no mandate from citizens to pursue specific agendas. Unappointed, unpaid, yet official, first ladies navigate a tightrope of conflicting expectations and demands.
First ladies may also find their legitimacy as leaders constrained by the political atmosphere that surrounds their husbands. A first lady's agenda can be criticized or demeaned by political opponents – thus obstructing her ability to effectively influence change. For instance, Mrs. Kateryna Yushchenko, former First Lady of Ukraine, described how her husband's political opponents blocked her from implementing social reforms and projects:
"My husband's political opponents tried to stall some of our initiatives, or criticized them in media…The entrenched bureaucracy resisted some of the reforms we tried to effect in health, education and the arts…We were not able to finish our biggest project, the construction of a state-of-the-art children's hospital, because of huge bureaucratic barriers, inactivity among people in my husband's administration, and interference [by] political opponents."
A Conversation with Mrs. Laura Bush and Mrs. Michelle Obama
The two first ladies sat down for a conversation at the Bush Institute's 2013 African First Ladies Summit in Dar es Salaam, Tanzania. Moderated by Cokie Roberts.
Mrs. Michelle Obama, as the first African-American First Lady of the United States, has recounted her experiences with racism during her eight years at the White House. Mrs. Obama admits that she initially lost sleep over these personalized attacks:
"And over the years, folks have used plenty of interesting words to describe me. One said I exhibited 'a little bit of uppity-ism.' Another noted that I was one of my husband's 'cronies of color.' Cable news once charmingly referred to me as 'Obama's Baby Mama.' And all of this used to really get to me. Back in those days, I had a lot of sleepless nights, worrying about what people thought of me."
When first ladies take on positions of activism and political involvement, they are afforded a small margin of error before they become subjects of criticism. In an effort to maintain their legitimacy as leaders in an unelected position, they may be compelled to walk a tightrope.
"Eleanor Roosevelt was assailed by her contemporaries for the very activism that made later generations regard her as outstanding. Mamie Eisenhower was criticized for being inactive, and Jacqueline Kennedy for spending too much money on clothes. Betty Ford was criticized for speaking out too much and Rosalynn Carter for sitting in on Cabinet meetings."
—Lynn Rosselini, Reporter
Seizing Opportunities to Lead
Though the first lady role is frequently portrayed as being one of privilege, it is also one of responsibility. Inherent leadership skills allow many first ladies to execute those responsibilities successfully.
Personal proficiency
For any leader, personal proficiency is the bedrock upon which they build and execute an agenda. In some instances, heads of state formally call on their spouse to assist with governance. In others, first ladies leverage their past experience to establish an independent yet complementary action agenda. Either way, a first lady's preparedness to champion issues and advocate for policy is greater than any time in history.
Contemporary first ladies increasingly desire to continue their professional work by channeling that energy into their role as first lady. A lawyer by training, Vice President Cedeño de Fernandez saw how gender stereotypes limit the scope of what first ladies seek to accomplish.
Overcoming these barriers through action, Vice President Cedeño de Fernandez served as a vital voice in the development of social programs in her husband's administration. Through a strategic agenda aligned with the President's policy objectives, including advancing progress on the Millennium Development Goals (MDGs), Vice President Cedeño de Fernandez turned the Office of the First Lady into an "agent of social transformation." Her efforts to address poverty, the digital divide, child health, and family strengthening were widely recognized by international organizations and non-profits.
One the tactic of enhancing personal proficiency is by networking with other first ladies and learning from their experiences. Advice that is passed down between first ladies or shared among peer first ladies becomes a lifeline.
A Conversation with Mrs. Laura Bush and Mrs. Barbara Bush
On March 5, 2012 the George W. Bush Presidential Center hosted the First Ladies Conference at SMU. In this video, Historian and Biographer Doris Kearns Goodwin moderates a conversation with Mrs. Barbara Bush and Mrs. Laura Bush.
Mrs. Laura Bush often speaks of the ways she had benefitted from her relationships with other first ladies:
"Well of course I had my mother-in-law, [Mrs. Barbara Bush]. I had a special role model, somebody who I'd watched for years. I was also the First Lady of Texas for six years. One of the things we had with the National Governor's Association (NGA) was a First Ladies Association. At least once a year, state first ladies met at the NGA meetings, There would usually be a formal program with a First Lady presenting a project that others could learn from or duplicate, and this was really helpful…I also had friendships and association with a number of first ladies from other countries, like Cherie Blair."
Vision: The people's work
Historically and continuing to the present, one enduring trend is how first ladies have effectively established a strategic vision by forging a special relationship with their country's citizenry. As Ms. Botella noted, "Your role is to make a series of things visible …You can help make visible the work of many groups that lack visibility … I was always in touch with the people."
By being compassionate listeners and supportive facilitators, first ladies often utilize a form of leadership first described in the 1940s by Mary Parker Follett as "power with, not over." First ladies bring a focus on advancing "the program of the population" and building bridges between citizens and their leaders.
Despite legitimacy gaps in Japan, Mrs. Akie Abe attributes her prominence at home and abroad to her ability to connect with people beyond cultural and societal boundaries. "I don't think I have any special talents…I'm one of the few people in this country who can talk to a wide range of people, from the Emperor to the homeless."
In Afghanistan, where Mrs. Ghani has focused on gender empowerment, her vision for her platform is rooted in both her character as an individual and the opportunity to augment existing efforts. Insistent on using her voice to complement the work of government institutions and civil society activists, Mrs. Ghani carries out her platform on behalf of the people. She has an "open door policy" that gives her the opportunity to hear from citizens and elevate their concerns across ministries and other institutions.
"I start from listening. I don't set the agenda. It's the people who come to me and who explain to me what they want and what are their concerns, what are their complaints, what are their hopes, and sometimes I know what to do, so I help; it's much more about trying to make it easy for the women of Afghanistan who have not had an opportunity to raise their voice or to be heard."
– Mrs. Rula Ghani
Strategic Focus: Empowering people who have been left behind
The mutually supportive bond many first ladies forge with citizens is a source of power, inspiration, and legitimacy. First ladies advance important issues, including improving the status and wellbeing of women, children, and other vulnerable populations. By using their platforms as "voices of the voiceless," first ladies have at times found opportunities to push against deeply engrained biases by opposing stigmatization of vulnerable groups and offering a more inclusive and equitable vision of society.
In India, during her travels with her husband to rural communities, Mrs. Sonia Gandhi recognized the opportunity to connect with citizens who otherwise were without a voice. As Rani Singh described:
[W]hen they were working in India, visiting rural areas, Sonia would always act…She would always make a beeline for the neediest and the weakest person in the crowd; she seemed to have a natural concern. And somebody said she seemed to grow her strengths from looking into the faces of the poor when she went into constituencies."
In another example, Mrs. Geingos works to combat violence against women and girls. With the aim of understanding and addressing the underlying issues that incite gender-based violence, her work includes strategic engagement with both survivors and perpetrators of violence.
During her early months as the American First Lady, Mrs. Barbara Bush visited Grandma's House, a Washington-based facility that cares for abandoned and neglected children, including HIV positive infants. Citing a "tremendous need" for love and understanding around those battling the disease, throughout her visit Mrs. Bush aimed to dispel inaccuracies and stigma: "You can hug and pick up AIDS babies and people who have the HIV virus without hurting yourself … There is a need for compassion." Cradling an infant during her visit, the first lady's motherly demeanor was captured in a now famous photograph published in newspapers across the country. "We've had so much trouble with all the talk about the dangers of personal contact. Here, the First Lady isn't afraid – and that's worth more than a thousand public service announcements," said Jim Graham, administrator of the Whitman-Walker Clinic at the time. "You can't imagine what one hug from the First Lady is worth."

John Zich/The LIFE Images Collection/Getty Images
"We've had so much trouble with all the talk about the dangers of personal contact [with HIV positive infants]. Here, the First Lady isn't afraid – and that's worth more than a thousand public service announcements. You can't imagine what one hug from the First Lady is worth."
– Jim Graham, Whitman-Walker Clinic
In Tanzania, through the Wanawake Na Maendeleo (WAMA Foundation), Mama Salma Kikwete has challenged the engrained stigmas and misconceptions related to maternal health services, especially with regard to women's cancers. She recognized that women are likely to come forward and use such services when they hear from a woman they trust .Plagued with the second highest rate of cervical cancer in sub-Saharan Africa, a disease both preventable and treatable, Mama Kikwete's actions had a notable influence in breaking down stigmas and saving lives.
Management of Time and Talent
"You know, with the first lady the government gets an employee free; they have her just about as busy as they have me."
—President Ronald Reagan
First ladies regularly encounter a set of pre-conceived expectations about their role.
Leading by Example: The First Lady of Tanzania and Her Fight Against Women's Cancers
Mrs. Salma Kikwete, former First Lady of Tanzania, has been an active champion of programs that empower women and inspire them to take proactive steps to care for their personal health. Since her husband took office in 2005, Mrs. Kikwete has leveraged her platform in the fight against cervical and breast cancer, particularly through her support of Pink Ribbon Red Ribbon and the partnership's effort to save women's lives across Africa.
Unfortunately, first ladies may not have the capacity to respond to all demands. Their ability to implement programs, connect with citizens, and effectively influence change largely depends on their access to and management of resources, particularly reliable staff members. In many cases, the availability of these resources depends on the formal recognition of a first lady's position or office.
"I think the American first lady can do anything she wants to do. And probably anything she doesn't want to do," said Mrs. Barbara Bush, adding that, "A good office makes a difference. I mean a huge difference. I had a very good office, who opened up things for me."
In cases where first ladies had access to staff and resources, they acknowledged them as integral contributors to their success. In Chile, where the Office of the First Lady has historically operated within the Sociocultural Division of the Presidency, Ms. Cecilia Morel cited the value of her staff as "[o]ne of the most important facilitators" to leveraging her platform effectively as first lady. In reflecting on the critical need for experienced personnel, Ms. Morel added, "[B]eing able to delegate and trust the people on [her] Cabinet and the Directors of the different programs … became the key ingredient to a successful term."
Executor
"You are not a simple citizen and nobody looks at you as a simple citizen. [W]hen a first lady picks up the phone and calls somebody, it's Somebody."
—Ms. Julia Pou
Despite the challenges that persist across the role, first ladies forge ahead. Leveraging the visibility of their platform through effective collaboration and communication, spouses of state leaders encourage action in response to critical issues at home and abroad.
For example, Mrs. Obama was instrumental in the implementation and scale of Let Girls Learn, a government initiative to ensure access to quality education for girls worldwide. Galvanizing multi-sector support, Mrs. Obama's engagement on behalf of the 62 million girls out of school globally yielded an initial $250 million dollar appropriation in the President's Budget Request and a public-facing campaign for grassroots donations to the Peace Corps in support of the program, resulting in more than $2 million raised in the first year alone of the initiative.
Why Partnerships Matter
Collaborative efforts possess great potential to make a difference. As Mrs. Monica Geingos noted during a 2016 panel "change happens when we break down silos and build partnerships." While the global community continues to plan a course of action to meet sustainable development objectives, synergy is critical.
Working in collaboration with existing institutions, Ms. Pignato led the development and implementation of Ciudad Mujer. Through Ms. Pignato's leadership and strategic engagement with citizens and stakeholders, Ciudad Mujer's holistic model quickly gained attention beyond its borders. At an event at the International Development Bank in October 2015, Vice President Cedeño de Fernandez and Mrs. Garcia de Hernández joined her to discuss the adaptation of the model and its role in empowering women across Latin America and the Caribbean. Since its inception in El Salvador, program elements have been adopted in Honduras, the Dominican Republic, Mexico, Colombia, Trinidad and Tobago, and Paraguay.
Some first ladies take steps to directly engage with local, national, and international media by conveying their stories themselves. According to historian Allida Black, Mrs. Eleanor Roosevelt "wrote 27 books, more than 8,000 columns and more than 500 newspaper articles, and gave 75 speeches a year all without a ghost writer." She held regular press conferences so that she could communicate in her own style, and invited only female reporters so that women could maintain their jobs during the Great Depression. Mrs. Roosevelt published a newspaper column for 26 years so that, as Black proclaims, "… if the press got it wrong, she used her column to get it right."
Anita McBride describes how Mrs. Bush established a positive relationship with the media. Throughout her public involvement, she learned how to coordinate with them, and was always well prepared to respond to any kind of question. "She really had a deep knowledge of what she was talking about; she was well-read, she was well-studied, she was properly briefed. She had a gift of knowing how to use language, saying more with less, so there's a bit of innate instinct. She was very astute. [She also recognized that] it was important for her voice to be out there."
"[Social media] bypasses the middle man. People can get to know me directly. They can see that I'm kind of silly sometimes, that I care. They can feel the passion, [and] they don't have to have it filtered through another source. And young people in particular like that."
—Mrs. Michelle Obama
"Mobile technology and social media have enabled us to widen our call … We all have a part to play in supporting those around the world who strive for change."
—Mrs. Sarah Brown
"My belief is that the Office of the First Lady is an apolitical conduit between those who feel disenfranchised, those who feel [left out] of the so-called system. [For] people who don't have access, I feel my role is to connect them."
—Mrs. Monica Geingos
Moreover, as social media has rapidly expanded across the last decade, first ladies have proven to be some of the most prominent influencers among these platforms. For example, ranking the most powerful women on Twitter in 2014, Forbes cited three (current and former) first ladies to their list: Secretary Hillary Clinton, Mrs. Sarah Brown (spouse of the former prime minister of the United Kingdom), and HM Queen Rania al Abdullah of Jordan.
For Mrs. Geingos, the use of social media has provided a means to bring her concerns to attention, especially for young people whose voices have traditionally been overlooked by government institutions. In addition to her active presence on Twitter and Facebook, Mrs. Geingos has also embraced the power of social media to stay engaged with critical stakeholders who are working to advance initiatives across Namibia. This includes her active participation in a WhatsApp group, created by the Namibian Minister of Health, to connect key decision makers across the country.
The Next Act
"Everything that you work on, you're never finished with. You don't get to rub your hands together and say, 'Well, we took care of education,' because there's another class of first graders. Everything I worked on are things that everyone in society needs to work on. I think we don't ever get to really say we're finished with an issue…"
—Mrs. Laura Bush
Women's professional and leadership journeys start well before they become first ladies and don't end when they leave office. In many cases, women build upon their experiences as first ladies to take on prominent leadership positions after leaving office. In fact, for some, the most interesting chapters of their leadership careers are written after the formal Office of the First Lady.
Further Reading: The First Lady Effect
When it comes to advancing these goals, women's leadership matters. And first ladies like Mrs. Geingos are a critical force in advancing the status of women and girls worldwide. With a unique platform to influence action to improve lives, current and former first ladies continue to steward advocacy and interventions in response to some of the world's most pressing challenges.
For example, in addition to her work as a lawyer and businesswomen, Mrs. Cherie Blair, spouse of the former prime minister of the United Kingdom, is a prominent advocate for gender equality worldwide. Assuming financial responsibility for her family at a young age, Mrs. Blair is well known for her promotion of women's economic empowerment and financial independence. The first in her family to attend university (and the first wife of a British Prime Minister to hold a degree), her personal experience inspired her work with the Cherie Blair Foundation for Women, an organization focused on building confidence, capability and capital for women worldwide.
Utilizing personal proficiency, strategic focus, and the value of collaboration to execute goals, to date, the Foundation has reached over 136,000 women in 90 countries across the globe. In 2013, Mrs. Blair was awarded a Commander of the Most Excellent Order of the British Empire by HM Queen Elizabeth II for her services to women's issues and to charity in the United Kingdom and Overseas.
Secretary Clinton is the most visible former first lady to seek major political office, but certainly not the only one. In the Dominican Republic, Margarita Cedeño de Fernandez now serves as Vice President and was re-elected to her second term in 2016. In Spain, Ms. Botella served as Mayor of Madrid from 2011-2015, the first female elected to the role in the city's history. Mrs. Sonia Gandhi has served as the President of the Indian National Congress since 1998. Mrs. Margarita Zavala de Calderon, former First Lady of Mexico, is currently pursuing a bid for her country's presidency in the 2018 election. And in Uruguay, although she stresses that it was at first "absolutely not in [her] plans," Ms. Pou ran and won a seat in the country's Senate.
Mrs. Laura Bush has remained active through the Bush Institute and the Laura Bush Foundation for America's Libraries. Ms. Graça Machel who, in addition to many notable roles, served as First Lady of Mozambique and later South Africa, continues to advocate for gender equality within Africa and across the globe. Mrs. Barbara Bush is widely known for her enduring commitment to family literacy through the work of the Barbara Bush Foundation for Family Literacy. Mrs. Samantha Cameron, spouse of the former Prime Minister of the United Kingdom, launched her own fashion brand, returning to her professional focus on art and design after leaving 10 Downing Street.
First ladies continue to serve as champions and bear influence across a vast array of environments, issues, and opportunities.
Platform of Impact: Bush Institute Recommendations
Unelected but still official, first ladies must play both public and non-political roles. Amid a highly visible platform with little room for error, often without formal structure or support, gender typecasts manifest scrutiny.
First Ladies Have a Platform for Impact
As demonstrated by women across the globe, when used effectively, a First Lady's platform can be a key force in combatting challenges at home and abroad.
Read the Bush Institute policy recommendations
Yet despite these challenges, many first ladies continue moving forward, seizing on opportunities to lead. Hostess, teammate, champion, and policy advocate at home and abroad, first ladies are increasingly recognized as figures of influence.
In looking to the future and continued expansion of a first lady's role, the research team at the George W. Bush Institute and ICRW identified four recommendations to support the efforts of first ladies, their staff, and those who wish to engage with first ladies on mutual areas of interest. These recommendations also yield value for women leaders generally who seek to build a platform for impact.
Develop a strategic vision
Among competing priorities and ever present constraints, first ladies are markedly aided by the development and implementation of a strategic vision. Despite inadequate resources and an undefined "job description," by aligning their visions with the unique prominence of their position, first ladies can set a clear path forward, advancing important causes and opportunities for action.
Engage with citizens and peers
First ladies have a unique opportunity to transcend boundaries. Their capacity to engage with citizens from all walks of life presents an opportunity to break down barriers and elevate issues of importance. When used effectively, a first lady's social capital can generate a vital bridge between civil society and government institutions. Moreover, first ladies benefit from engaging with their peers. Communication and outreach with predecessors, successors, and contemporaries affords opportunities to share best practices and learn from others who are or were in similar positions of influence.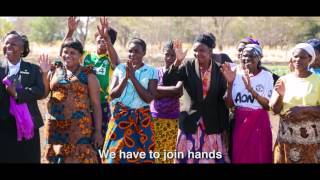 First Ladies Initiative at the George W. Bush Institute
First Ladies use their unique platforms to promote issues and programs that improve the lives of women and children in their countries. The Bush Institute's First Ladies Initiative engages and supports First Ladies from around the world to effectively use their unique platforms to advance issues for women and girls in their countries.
Encourage collaboration among stakeholders
Collaboration is a vital force for change. Partnerships, by their very nature, present an opportunity to engage diverse ideas. As apolitical influencers, first ladies have a powerful opportunity to unite people and/or groups and encourage cooperation. In working toward a common objective, collaboration also presents opportunities to offset resource limitations and other barriers while encouraging sustained impact across campaigns and programs.
Promote the value of women as leaders
At every level of society, women's leadership matters. When women are educated, their children are more likely to be educated. When women have access to quality health care, their families are healthier. When women have equal entry to the economy, their communities are more prosperous. For communities to flourish, every citizen must have equal opportunities to maximize her or his potential. With a distinctive ability to engage civil society and government institutions, spouses of state leaders are moving the needle forward on critical issues at local and national levels. Because it inspires both advocacy and action, when used effectively, a first lady's podium is a catalyst for change.
Thank You
Special thanks to the first ladies, senior advisors, and content experts who generously gave their time to be interviewed for this report, and to ExxonMobil for their support of this research study.
First Ladies Interviewed and Surveyed
Mrs. Rula Ghani, First Lady of the Islamic Republic of Afghanistan
Ms. Cecelia Morel, Former First Lady of the Republic of Chile
Vice President Margarita Cedeno de Fernandez, Former First Lady of the Dominican Republic
Mrs. Roman Tesfaye, First Lady of the Federal Democratic Republic of Ethiopia
Ms. Ana Garcia de Hernandez, First Lady of the Republic of Honduras
Mrs. Monica Geingos, First Lady of the Republic of Namibia
Ms. Ana Botella, Former First Lady of Spain
Ms. Kateryna Yushchenko, Former First Lady of Ukraine
Mrs. Laura Bush, Former First Lady of the United States
Mrs. Barbara Bush, Former First Lady of the United States
Ms. Maria Julia Pou, former First Lady of Uruguay
The research team also interviewed historians, biographers, and/or authors relative to the following case studies:
The Honorable Sonia Gandhi, spouse to the former Prime Minister of India
Baroness Spencer-Churchill of Chartwell, spouse to the former Prime Minister of the United Kingdom
Mrs. Ele