Make a Difference
SUPPORT THE WORK OF THE GEORGE W. BUSH PRESIDENTIAL CENTER
The George W. Bush Presidential Center relies on the support of our generous friends, members, and donors to promote the principles that have guided President and Mrs. Bush throughout their lives.
OUR CHARGE
At the Bush Center, we strive to make the world a better place.
We promote policies that are essential for a strong American economy. We fight to ensure every child has access to quality education. We save lives by fighting disease around the world. We cultivate the belief that ingrained in every human being is the desire to be free.
We improve the health and well-being of veterans and military families by setting the conditions for a successful transition and their continued leadership as civilians. We support women around the world to be catalysts for change. We develop the leaders of tomorrow.
With your partnership and support, the vibrancy and impact of the Bush Center's work will advance these timeless principles and carry forth for generations to come.
George W. Bush Presidential Center
Support Our Work
MEMBERSHIP OPTIONS
Highlights Include:
Members receive complimentary admission to the George W. Bush Presidential Museum, as well as advanced notice and reduced ticket prices for all Engage events.
Individual: $50 yr
Dual: $85 yr
43 Club: $100 yr
Family: $150 yr
Associate: $500 yr
Patron: $1,000 yr
GIVING SOCIETIES
Highlights Include:
By joining a giving society, you'll be granted exclusive access to the George W. Bush Presidential Center, its special events, and more.
Patriot Circle: $5,000
Leadership Circle*: $50,000
President's Council*: $100,000
Sustaining Benefactors*: $1,000,000
Freedom Hall Society: Learn More
Corporate Leadership Society: Learn More
View Giving Society Benefits (PDF)
*Multiyear pledges available at these giving levels.
+Each level of support will receive benefits provided at subsequent levels. All gifts are fully tax-deductible.
CORPORATE LEADERSHIP SOCIETY
Highlights Include:
Access to the George W. Bush Presidential Museum
Forum on Leadership
Corporate Member Open House Night
43 Club
Levels of Participation:
Ambassador Level: $10,000
Cabinet Level: $25,000
Executive Level: $50,000
The George W. Bush Presidential Center is a 501(c)3 nonprofit. Benefits and event formats are subject to change.
348
Presidential Leadership Scholars to date
76
Stand To Veterans Leaders Trained
82
Women's Engagement Leaders to date
Learn More About the Bush Center
Explore Our Work
Through policy solutions and public engagement, we ensure opportunity for all, strengthen democracy, and advance free societies.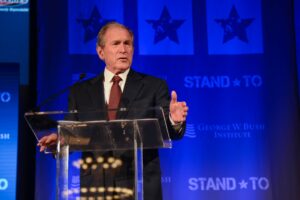 Ensuring Opportunity
Our society must welcome, value, and protect everyone. To recognize our Nation's full potential, we must foster independence, reward innovation, and replace poverty with prosperity.
Strengthening Our Democracy
Securing democratic values, encouraging civic participation, and strengthening American institutions are the calling of every citizen. Civility is a cornerstone to a thriving democracy.
Advancing Free Societies
Free and healthy societies are the world's best hope for peace and stability. Freedom requires vigilance and the courage to advance human rights and the rule of law.
FREQUENTLY ASKED QUESTIONS
With a carefully determined spending rate of 4.5% from the endowment to general operations, the endowment is being managed in a fiscally-conservative manner which encourages a target net return of 7% on investment.
After examining each program's needs and anticipated fundraising revenue, the Bush Center has carefully determined a campaign goal of $300M that consists of an additional $250M of endowment funding plus $50M in operational funding. At the conclusion of the campaign, a fully funded endowment will be sufficient to support 50% of our operating budget. Combined with our earned income from museum and library operations, the Bush Center annual giving need will only comprise 33% of the estimated annual budget. That healthy ratio of annual fund need will allow the Bush Center to always be topical and responsive to our constituencies and ensure our programming does not go stale.
We would be happy to accept your donation in the form of stocks, estate gifts, mineral deposits, and real estate. Please contact the Bush Foundation at 214.200.4300 for information on how to make a gift of this nature.
Any gift of $50 or more is recognized in our Freedom Registry. However, we are pleased to permanently display the generosity of our major donors at various locations at the Bush Institute to be unveiled at the conclusion of the campaign. For more information on permanent naming opportunities, please contact the Bush Foundation at 214.200.4371.
We are pleased to thank our generous supporters in various ways depending on the level of their gift. Please click here for more information.
Yes, any gift $25,000 or more may be pledged and paid over a limited period of time. Please contact the Bush Foundation at 214.200.4300 for more information on pledging your gift.
Questions for our donor relations team? You can reach us at [email protected] or 214.200.4371.