PRESIDENT GEORGE W. BUSH
George W. Bush served as 43rd President of the United States of America from 2001 to 2009.
As Commander in Chief, President Bush worked to expand freedom, opportunity, and security at home and abroad. He entered office with a robust domestic agenda. His first initiative as President was the No Child Left Behind Act, a bipartisan measure that raised standards in schools, insisted on accountability in return for federal dollars, and led to measurable g­ains in achievement – especially among minority students.
FULL BIO
---
MRS. LAURA BUSH
Former First Lady of the United States
Laura Bush, former First Lady of the United States, is an advocate for literacy, education, and women's rights. After leaving the White House, President and Mrs. Bush founded the George W. Bush Presidential Center in Dallas, Texas. The Bush Center is home to the George W. Bush Presidential Library and Museum and the George W. Bush Institute, a public policy center established to advance human freedom, economic growth, education reform, and global health.
FULL BIO
---
BARBARA BUSH
Barbara is co-founder and Board Chair of Global Health Corps (GHC)
Barbara Bush is Executive-in-Residence with Eric Schmidt's Schmidt Futures, a venture facility and foundation for public benefit focused on technology & society, shared prosperity, and scientific benefit. In this role, she supports racial justice, global health, and COVID-19 investments and programs.
FULL BIO
---
JENNA HAGER
Jenna Hager is co-host of NBC's TODAY with Hoda & Jenna and an editor-at-large for Southern Living magazine.
She is the author of The New York Times bestseller Ana's Story: A Journey of Hope, which she wrote after traveling to Latin America in 2006 as an intern with UNICEF. Ana's Story is based on the life of a 17-year-old single mother with HIV, who struggles to shield her child from the life she had of abuse and neglect.
FULL BIO
---
BUSH FAMILY PETS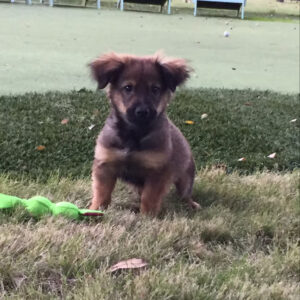 Bob, Bernadette, and Freddy
The newest member of the Bush family is Freddy the dog. President and Mrs. Bush visited the SPCA of Texas' Jan Rees-Jones Animal Care Center in 2016 to thank them for their great work – and came home with a puppy. Even Bob and Bernadette are finding Freddy's charm futile to resist.
Bush Family Pets