×
Fill out the brief form below for access to the free report.
Even Though We're Apart, We're Together In This Fight
During the COVID 19 crisis, I've seen compassion, innovation and collaboration. Even though we're apart, we're together in this fight.
In the middle of lockdowns and social distancing, it can feel like the world has shut down. It hasn't. Filled with bursts of ingenuity, compassion and collaboration, life still goes on. I was operating on a perforated colon cancer, and in the midst of my rapid fire shouts of "6 more liters of sterile irrigation" and "reload the bowel stapler", I noted the compassion of the OR team, from the nurses and techs to the anesthesia crew, in their meticulous care for this single patient. In the time of COVID-19, despite how stressed and stretched they each were, they still had the ability to make that one patient in front of them the center of all their efforts.
I've also seen ingenuity birthed from necessity, both locally and nationally. When we needed to conserve sterile surgical gowns and medical students could no longer scrub into surgeries, Baylor Surgery residents jumped in to help me host an impromptu dry suture lab, teaching our Baylor medical students suturing techniques on improvised simulators.
And when college campus were shuttered, Dean Toni Doolen from the Oregon State University Honors College offered to transform laptops into classrooms, so I delivered a virtual lecture from Houston and discussed health policy with West Coast pre-med students.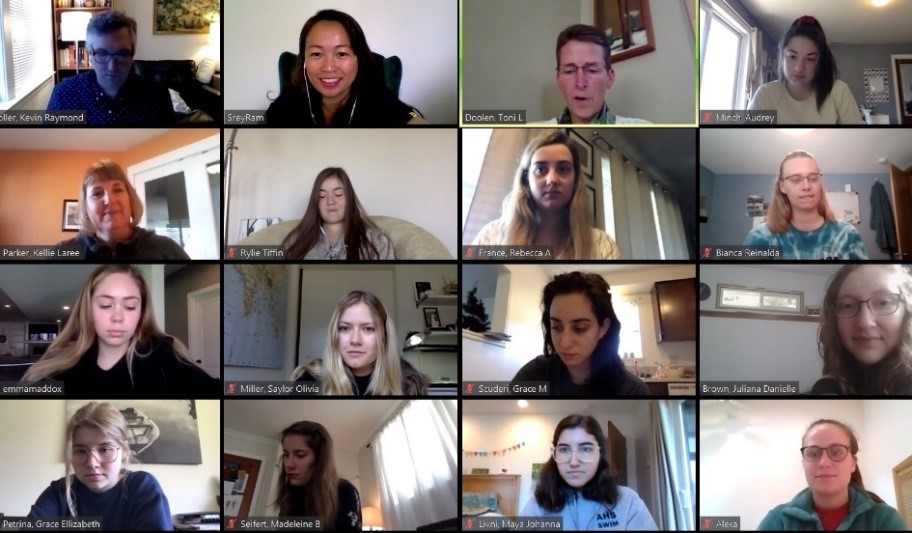 Even though we're apart, communities are still coming together. Through WhatsApp group chats and google doc sharing, I worked with a community of Presidential Leadership Scholar physician leaders from Johns Hopkins, Emory, the American Hospital Association, and others to pool our expertise and experiences from the frontlines, and created a compilation of best practices for hospital preparedness during COVID-19. I've never met some of these scholars in person, and yet, this collaboration birthed from social media discussions is being published by NEJM Catalyst to help hospitals across the country implement strategies to mitigate transmission, conserve resources and support health care providers during the pandemic.
During the COVID 19 crisis, I've seen compassion, innovation and collaboration. Even though we're apart, we're together in this fight. This gives me hope.
SreyRam Kuy, MD, MHS, FACS is a practicing general surgeon, healthcare executive & quality improvement researcher at Baylor College of medicine. She currently serves as Deputy Chief Medical Officer for Quality & Safety for VISN 16. She is a class of 2017 Presidential Leadership Scholar.