×
Fill out the brief form below for access to the free report.
Mrs. Laura Bush and the Bush Institute's 23 Liberty and Leadership scholars enjoy a tour of Bonton Farms in South Dallas the morning of October 21. Photo by Grant Miller
South Dallas's Bonton Farms Hosts Liberty and Leadership scholars and Mrs. Laura Bush
October 23, 2019
3 minute Read
by Miriam Spradling
The Bush Institute's 23 Liberty and Leadership scholars from Burma are spending three weeks in the United States for Module 2 programming.
The Bush Institute's fourth cohort of Liberty and Leadership scholars arrived from Burma this week. They will spend three weeks in the United States including two weeks in Dallas and one week in Washington, D.C.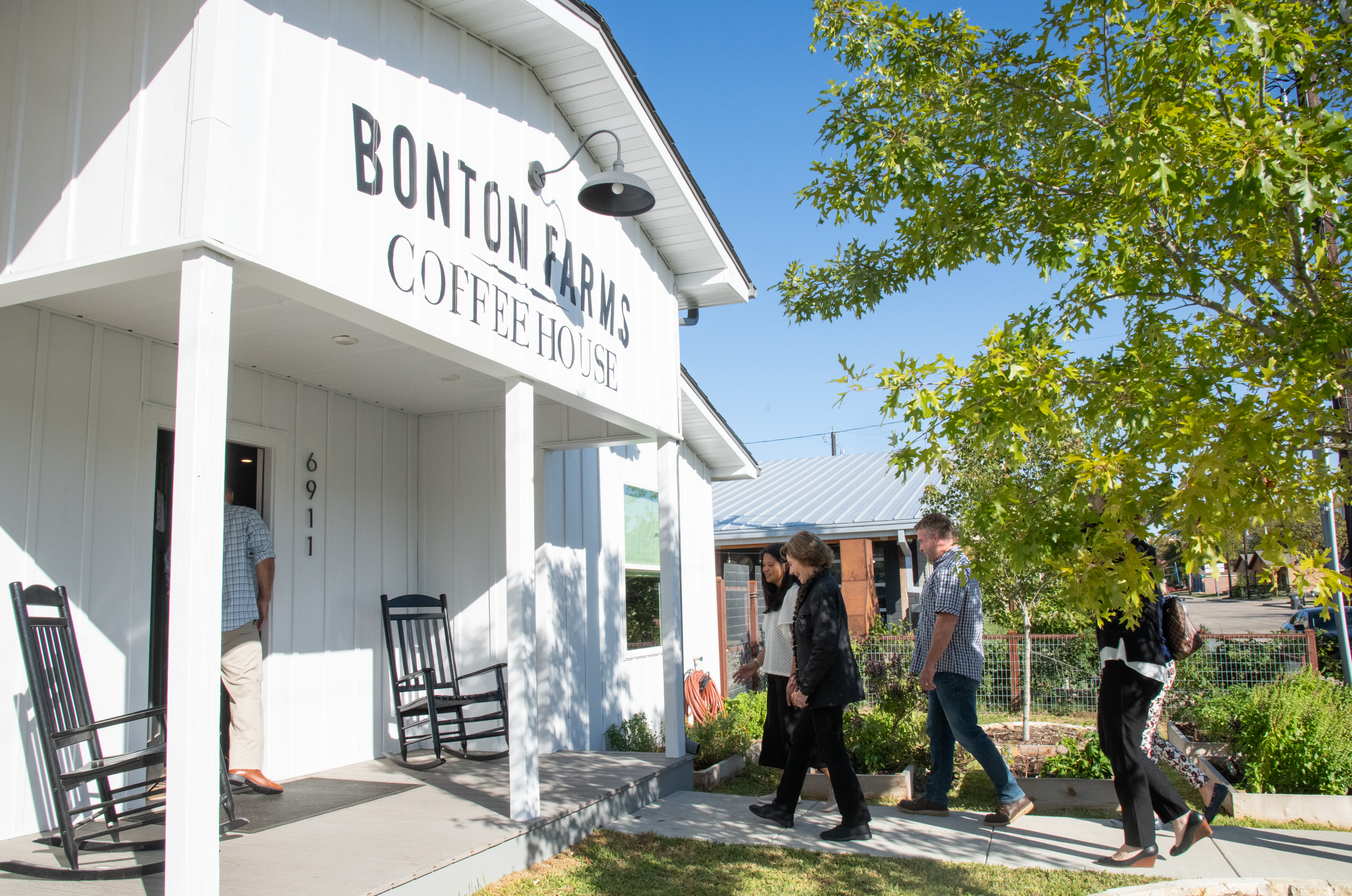 Their module began with a tour of Bonton Farms, a thriving farm in South Dallas that is "restoring lives, creating jobs, and igniting hope in a once forgotten and neglected neighborhood with some of the most marginalized people."
Founder and Executive Director Daron Babcock and his wife CFO/COO Theda Babock led scholars and Mrs. Laura Bush on a special tour highlighting the produce, goats, and most importantly, the people who work at Bonton Farms. Babcock showed scholars how to crack open pecans and invited them to taste the produce – mustard greens, collard greens, radishes, and figs – throughout the tour.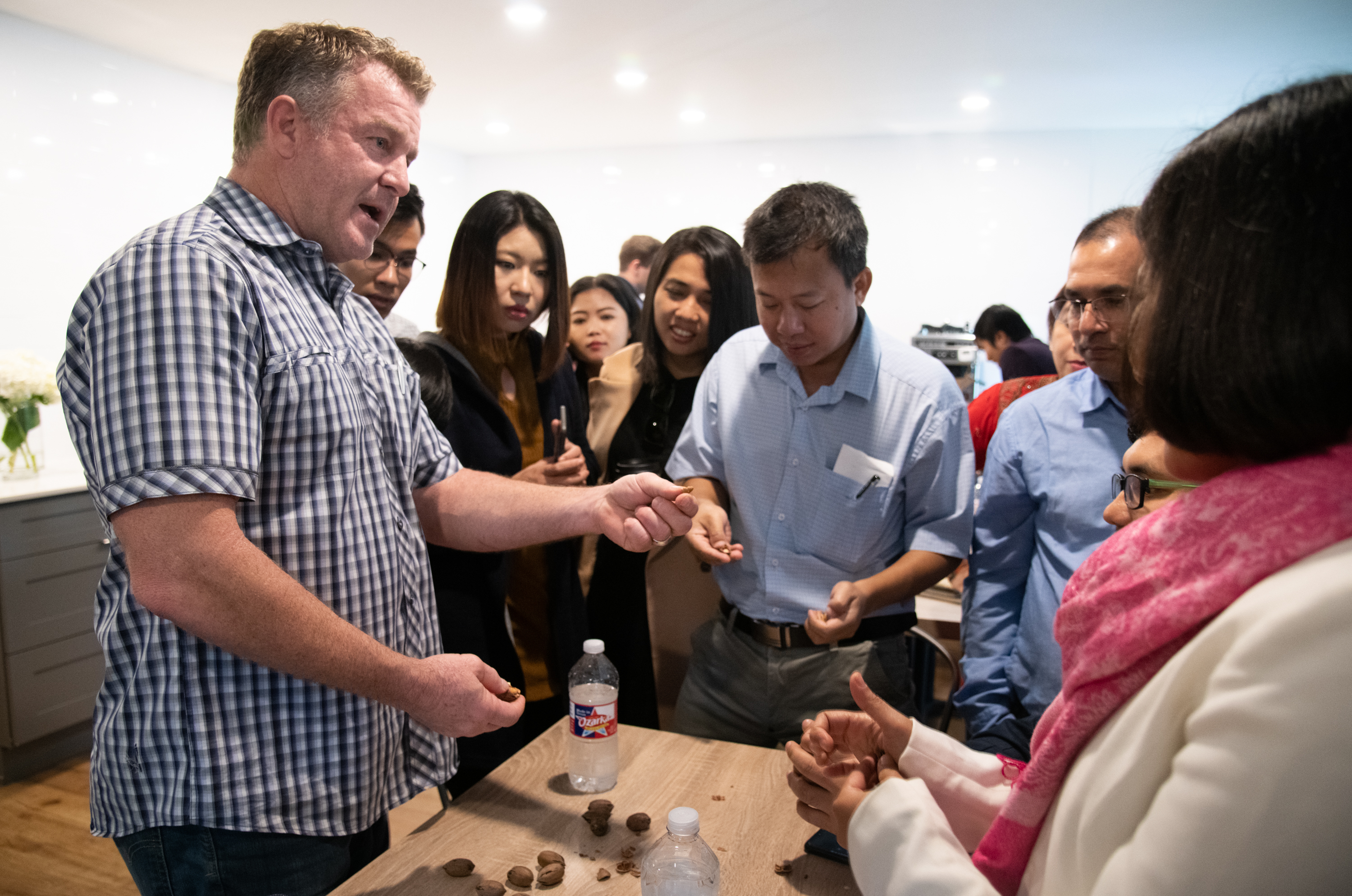 Bonton Farms was selected as an activity for the scholars not only because of Mrs. Bush's commitment to conservation, but also because Bonton Farms exemplifies the difference a small number of people can make in building civil society.
Nang Moe Sandi Lwin, an LLP scholar, said in an interview with Dallas Morning News's Dianne Solis [Read the story: Laura Bush welcomes Myanmar leaders in tour of Bonton Farms] that Bonton Farms' ability to bridge two communities – North and South Dallas – gave her hope that there will one day be an end to the ethnic-based discrimination that's so prevalent in Burma.
Babcock stressed the importance of supporting our neighbors both in Dallas and around the world, saying "We are all better when our neighbors are successful."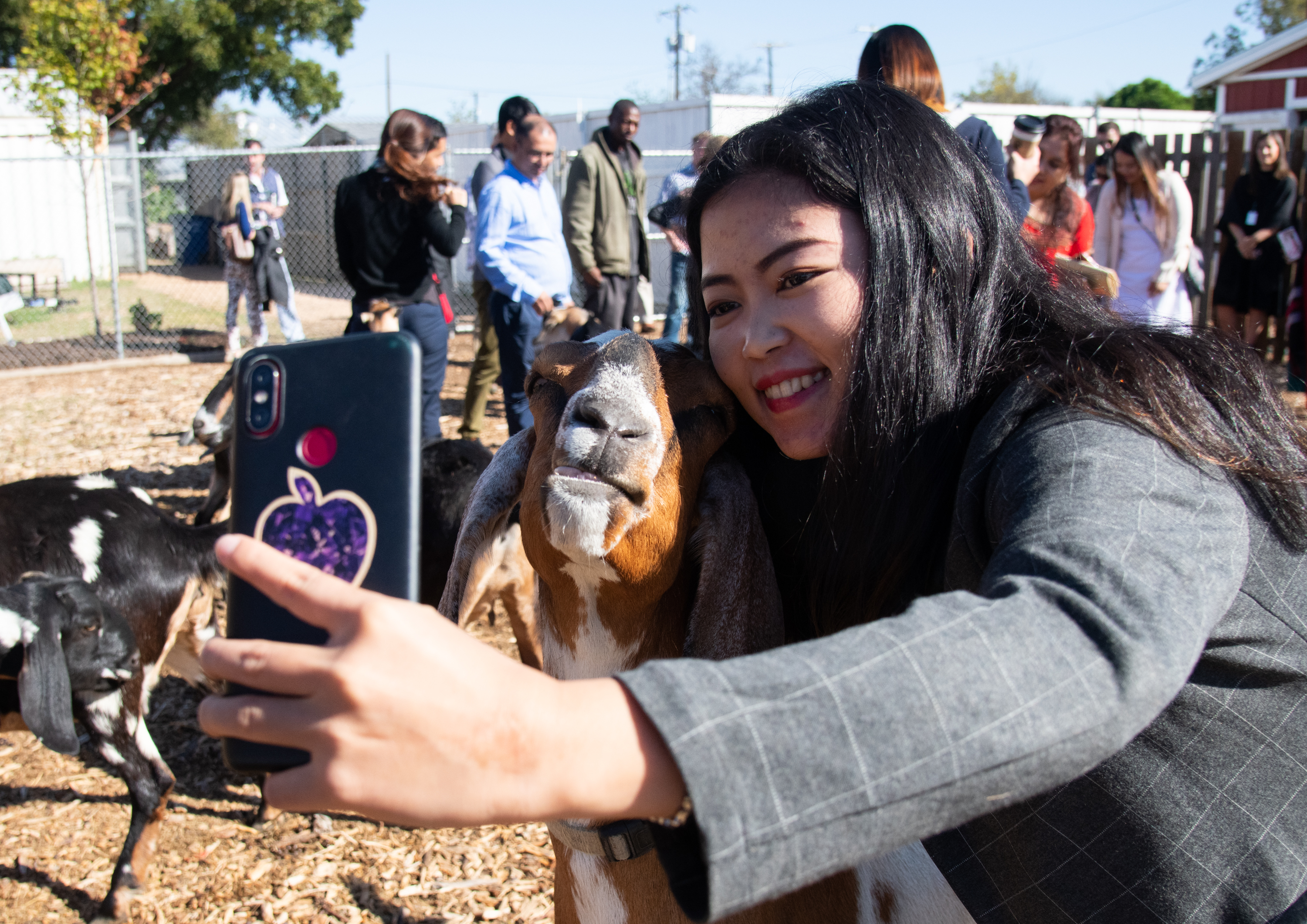 Many of the scholars are focusing their Personal Leadership Projects, a key component of Bush Institute leadership training, on pervasive challenges like poverty, discrimination, and access to quality education. Babcock left them with an encouraging message, saying they don't have to worry about changing the world – just focus on a percentage who can turn around and implement positive change for others in their community.
The next morning, scholars met with President and Mrs. Bush, discussing issues including the importance of freedom of religion and freedom of the press, how working together with people of different backgrounds increases the chances for success, and why scholars should have hope for Burma's successful democratic transition despite the many challenges that remain.
Next week, scholars will visit major landmarks in Washington, D.C., participate in classes on democratization at Georgetown University, and meet with journalists, policymakers, and thought-leaders.
Read the Dallas Morning News story: Laura Bush welcomes Myanmar leaders in tour of Bonton Farms
---
Author
Miriam Spradling serves as Senior Manager, Communications for the George W. Bush Presidential Center, where she focuses on the Bush Institute's global initiatives.
Prior to joining the Bush Center, Miriam was an Assistant Director of External Relations at Stanford Law School, managing recent graduate engagement, direct appeals, and the class gift campaign. Before Stanford, Miriam worked for MD Anderson Cancer Center as a Communications Specialist. In that role, she provided writing, video production, and media relations support. Miriam also worked for ABC13 in Houston as an Associate Producer.
Miriam graduated from The University of Texas at Austin with a degree in Broadcast Journalism and a minor in business. As a student, she completed multiple internships, including roles with former Sen. Kay Bailey Hutchison, Texas Monthly, ESPNU, and ABC News.
Full Bio