Dining
Café 43
Named in honor of the 43rd President of the United States, Café 43 is a full-service restaurant with a "local first, Texas second" menu. We feature locally-sourced, organic dishes that change seasonally, with complex interpretations of Texas-influenced dishes and classic favorites.
Make a Reservation, purchase a gift certificate, or contact us: Cafe43@BushCenter.org or call (214) 200-4302
Café 43 Hours: Open Daily
11:00 a.m -3:00 p.m.
Brunch served Saturday and Sunday. Dining at Café 43 does not require admission to the George W. Bush Presidential Library and Museum.
Courtyard Café
Enjoy a casual dining experience in the Bush Center's Ceremonial Courtyard, featuring daily chef-created specials, as well as soups, salads, sandwiches, breakfast items and Starbucks Coffee.
Dining at the Courtyard Café does not require admission to the George W. Bush Presidential Library and Museum.
Courtyard Café Hours

Weekdays and Saturday: 9:00 a.m. - 4:30 p.m.
Sunday: 12:00 p.m. - 4:30 p.m.
Courtyard Café Specials: October 15 - October 19
Monday
Seven Bean Soup
Crispy Chicken Ranch Wrap
Seared Tilapia Vera Cruz, Steamed Broccoli, Toasted Rice
Tuesday
Tomato Basil Soup
Pimento Cheese and Heirloom Tomato Croissant
Pecan Crusted Chicken, Mashed Potatoes, Green Beans
Wednesday
Tortilla Soup
Steak Fajita Quesadilla, Guacamole/Salsa/Sour Cream
Chicken, Pepper Jack, and Avocado Sandwich
Thursday
Corn Chowder
Hawaiian BBQ Chicken Wrap
Shrimp, Mango, and Crispy Wonton Salad with Sesame Ginger Dressing
Friday
Broccoli Cheese Soup
Turkey, Brie, Apple, Spinach, and Cranberry Aioli Wrap
Sloppy Joe Sandwich, Sweet Potato Chips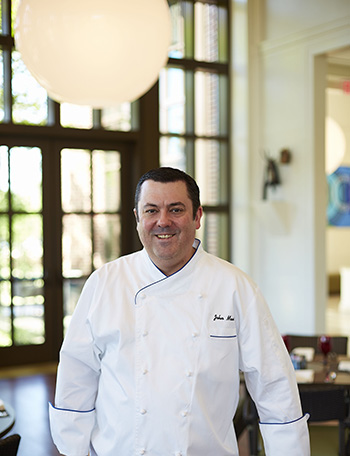 John Maas, Executive Chef
An accomplished chef with a strong combination of culinary experience and management skills, Executive Chef John Maas has created a locally sourced, organic, seasonal, sustainable menu for Café 43, offering recipes made entirely in house.
See Photos of Our Fall Offerings
Private Events
With its exquisite terrace seating overlooking the restored native Texas prairie landscape of the Bush Center, Café 43 is a convenient, centrally located choice for rehearsal dinners, retirement parties, corporate dining and very special events.
Contact the Catering Department at 214-200-4303 for details and arrangements.